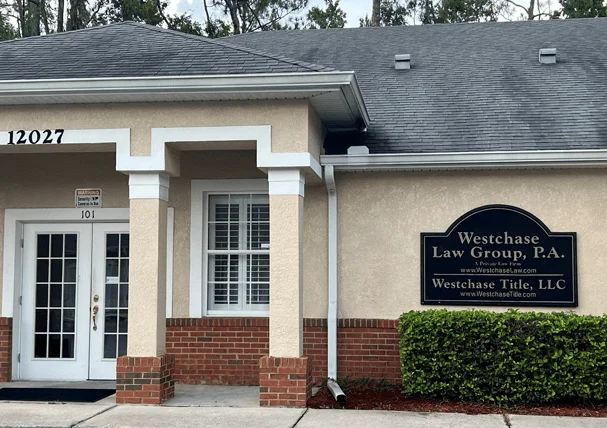 Tampa Divorce & Family Lawyers
Going through a divorce is never easy, but Westchase Law P.A. is here for you with compassion, care, and an understanding that the client's needs and goals come first. At our firm you'll find attorneys practicing at the top level of the legal profession, holding Board Certification in Marital & Family Law from the Florida Board of Legal Specialization, a distinction currently held by only a few dozen lawyers in Tampa. We excel in the representation of business owners and professionals with significant assets to protect and manage them in a divorce, including real estate investments and business holdings, but our comprehensive family law practice encompasses clients from all walks of life and economic levels. Whether your divorce is seemingly straightforward or astoundingly complex, Westchase Law P.A. has the skills, knowledge, experience and dedication to provide high-quality legal advice and representation to help you achieve your goals in your divorce or any other family law matter. Call our experienced Tampa divorce lawyers today.
Your Tampa Family Law Firm
Firm attorney Kelly M. Albanese is certified as a specialist in marital and family law by the Florida Board of Legal Specialization, demonstrating she has proven her knowledge and experience in family law through passing a rigorous examination and obtaining additional training. A very small fraction of attorneys in Florida go through the process for board certification, ensuring Kelly's dedication to the profession and providing the best representation for her clients. Along with other members of the team at Westchase Law P.A., Kelly represents clients going through high-conflict or high-asset divorce cases with a great deal at stake, be it considerable property and business interests or maintaining a meaningful ongoing parent-child relationship. Westchase Law P.A. is here for you through divorce mediation, marital settlement negotiations, or litigation in court, including appeals and post-divorce modifications.
Our comprehensive Tampa family law practice represents clients seeking or opposing domestic violence restraining orders, claiming or challenging paternity, supporting or opposing grandparent visitation, and negotiating, drafting, reviewing, challenging or enforcing prenuptial and postnuptial agreements. We are a full-service family law firm that is skilled, knowledgeable and experienced in all aspects of Florida family law.
Sophisticated Representation in Business Law & Bankruptcy
The firm's business law practice includes advice and representation in entity formation and business transactions, commercial litigation and bankruptcy. Prior to founding Westchase Law P.A., attorney C. Todd Marks worked in law firms from Washington, DC to Florida in commercial litigation, bankruptcy, and a variety of related matters, including corporate formation and transactions. Attorney Paul M. Phillips is a Chartered Financial Analyst (CFA) charterholder with bachelor's and master's degrees in finance. Paul's work at the firm includes assisting clients in bank regulatory law, securities law, financial transactions and general corporate law.
Zealous Representation in Florida Employment Law Matters
Westchase Law P.A. represents employees who are being unfairly taken advantage of in the workplace. Our employment law practice includes representing employees harmed by defamation, discrimination or wrongful termination, as well as helping employees injured on the job collect workers' compensation benefits that are being unfairly delayed, denied, underpaid or prematurely terminated by employers and their workers' comp insurance carriers.
Knowledgeable and Experienced Real Estate Law Representation
Firm founder and attorney C. Todd Marks is also the founder of Westchase Title, a full-service title agency performing residential and commercial closings and escrow services. Todd is an experienced commercial real estate lawyer who provides title services and helps with all legal matters related to residential and commercial real property purchases and sales. Westchase Law P.A. provides aggressive foreclosure defense of wrongful foreclosure actions and also helps homeowners avoid foreclosure by negotiating short sales and other alternatives that free them of their mortgage obligations. In addition, our firm stands ready to assist in landlord-tenant litigation and other Tampa real estate legal matters.
Caring, Compassionate, and Aggressive Personal Injury Representation
If you've been hurt in a Tampa car or truck accident, Westchase Law P.A. can guide you through the insurance claims process and make sure you are being treated fairly. If your injuries are severe, we can represent you in a lawsuit against the at-fault negligent driver and help you recover compensation for the full range of your legal damages, including medical expenses, lost income, pain and suffering, disability, disfigurement, and more. Injury victims who don't get legal representation don't recover the full value of their claims. Westchase Law P.A. will ensure that you get the care and compensation you need and deserve.
Estate Planning Services That Meet Your Needs
Standardized forms and off-the-shelf estate planning kits don't come close to accounting for your specific goals. We take the time to sit down with you and listen to your needs, advise you of your options, and draft the right set of wills and trusts to distribute your estate in the way you want it done. Our comprehensive estate planning services include drafting all necessary advance directives so that decisions regarding your healthcare, finances, and even end-of-life decisions will always be made the way you want, even if you aren't able to make those decisions or communicate your desires during a health care crisis.
Westchase Law P.A. also helps estate administrators and executors with the complex tasks of probate and estate administration. When you have been left with this time-consuming and complicated role, or if you have questions about the way your loved one's estate is being handled, we can get your questions answered and make sure the probate process is being handled appropriately.
Contact Westchase Law P.A. Today
For all your family law needs as well as help with a Florida business law or bankruptcy, employment law, real estate, personal injury or estate planning matter, Westchase Law P.A. is the law firm to turn to for practical legal advice, sound professional counseling, and excellent representation in or out of court. Call our experienced and dedicated Tampa divorce attorneys today.