Are You Responsible For Your Spouse's Student Loan Debt When You Divorce?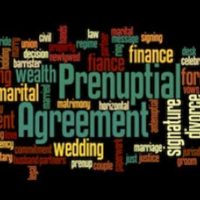 When two spouses divorce, the marital assets these two spouses share will be divided. By being divided, certain assets will go to one spouse, and then another set of assets will go to the other spouse.
But, what about student loan debt? Is student loan debt considered a marital asset? And, if so, will the spouse, who didn't take out these student loans, be forced to pay for them?
What Is Student Loan Debt? 
Right before we go over what, specifically, student loan debt is, we must define what a loan is. With that in mind, a loan is a form of debt in which one individual/entity agrees to loan money to a particular individual/entity.
Given this fact, a student loan is a loan that is meant for students who are going to college and/or university. Student loan debt is debt that arises from these student loans.
Even though many loans, and other forms of debt, can be discharged through bankruptcy proceedings, student loans do not fall into that category.
A spouse who owes student loan debt must pay it off, as there is no procedure that will allow the debt to be discharged without repayment.
What Is A Marital Asset? 
A marital asset – also known as "marital property" – is an asset that is acquired, by two spouses, throughout their marriage. Some examples of marital assets are as follows:
A car that two spouses bought together.
A joint bank account.
A set of furniture that two spouses bought together.
A business that was founded during the marriage.
A collection of art that two spouses bought together.
Every single one of these assets is considered a marital asset, as it was acquired during the marriage. But, if these assets were acquired before the marriage, then they are not considered marital assets.
When two spouses divorce, their marital assets will be divided. But, this only applies to assets that were acquired during the marriage or, in some cases, assets that grew in value, due to the actions of the two spouses.
Are You Responsible For Your Spouse's Student Loan Debt When You Divorce? 
The state of Florida practices equitable distribution. And, what this means is that the marital assets acquired throughout the marriage will be divided in a manner that is both fair and equitable.
Given this fact, assets such as a joint bank account, furniture, and even a business will be divided in a manner that aligns with Florida's equitable distribution statute.
Outside of those assets, though, debts and liabilities are also considered marital assets, if they were acquired throughout the marriage.
For this reason, when a couple divorces, around half of the student loan debt that was taken out during the marriage will go to the other spouse. This is true even if that spouse did not take out the student loan or obtain any benefit from it.
To prevent this from happening, there are two things a spouse can do:
Develop a prenuptial agreement.
Clarify, to the court, that their financial situation is not conducive to paying off the debt.
Regarding the latter option, this will still lead to some of the debt going to the spouse who cannot pay it off. But, if their claim is successful, the amount of debt they receive will be less than half
Speak With A Tampa Prenuptial Agreement Lawyer 
To ensure that you are not forced to take on your spouse's student loan debt, in the event of a divorce, you can develop a prenuptial agreement before your marriage.
Speak with a Tampa prenuptial agreement lawyer at Westchase Law, P.A. today and we will help you develop an effective prenuptial agreement that assists you in protecting your assets.
Sources: 
law.cornell.edu/wex/loan
govinfo.gov/content/pkg/COMPS-765/pdf/COMPS-765.pdf
law.cornell.edu/wex/marital_property
leg.state.fl.us/Statutes/index.cfm?App_mode=Display_Statute&URL=0000-0099/0061/Sections/0061.075.html